Written Exclusively for It's Over Easy by Arturo Peredo
Divorce can be stressful, but not everyone has the same experience. There are many reasons why a couple files for divorce, and how they cope with the process is often relevant to how much it can cost.
The following survey asked 501 people from the ages of 22 to 77, how they dealt with divorce, including who kept the house and how each spouse transitioned into their next chapter. If you want to know the results keep on reading
Do you sell or do you stay?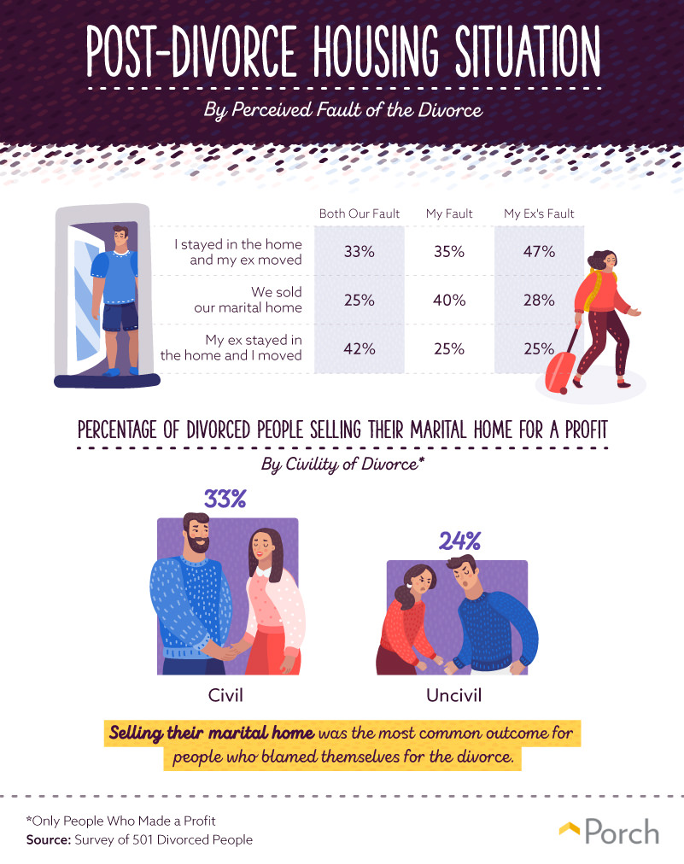 Let's start with an important question "Who keeps the house?"
According to the results of our survey, selling the home was the decision made by spouses who hold themselves accountable for the divorce, and almost half of those who felt their ex-partner was mainly at the fault of their divorce ended up keeping the marital property.
Those couples who considered their divorce to be civil (33%) were more likely to make a profit on the sale of their home compared to the 24% who said their divorce was less than friendly.
If both of you are clear on the main agreements such as division of community property, custody, or alimony and want to have a more amicable and affordable divorce process, an uncontested divorce or an online divorce might be the best option for you.
Choosing a new home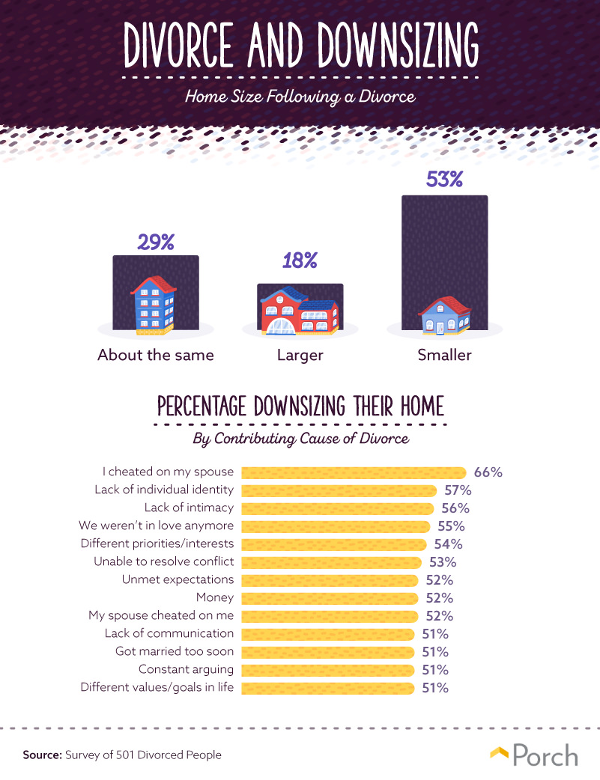 The infographic above shows that a majority of the people surveyed chose to downsize after moving out of the marital residence. Fifty-three percent went with a smaller place, twenty-nine percent chose a residence that was about the same size as before, and only eighteen percent moved to a larger property.
Moving away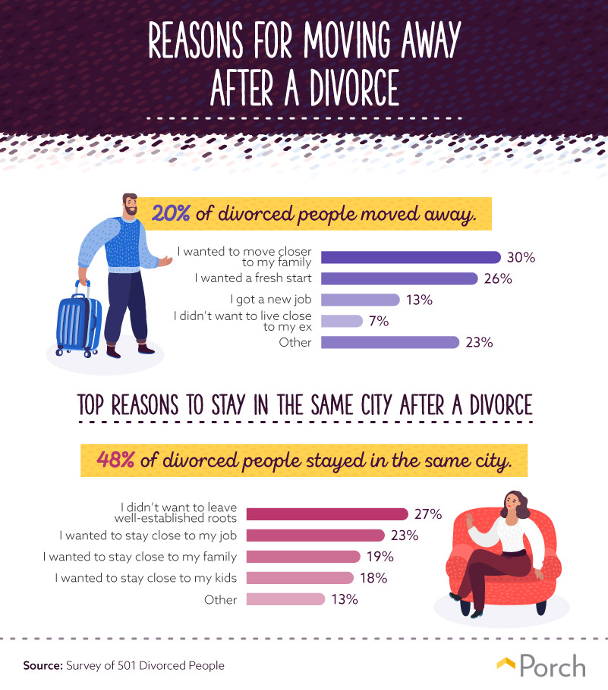 Moving to a new city can be intimidating. Especially if you've lived in one place for a very long time. The survey found that a majority of former spouses decided to remain in the same city where they resided as a married couple, instead of moving away. Twenty-seven percent said that they remained in the same town because they had well-established roots. Other reasons why people decided to stay put include not wanting want to move too far away from work (23 percent), family (19 percent), or kids (18 percent).
However, 20 percent of respondents did move to a different city or state after divorce. This group said having strong and supportive social network of family, friends, and peers helped them to find confidence in their next chapter, life after divorce.
Family first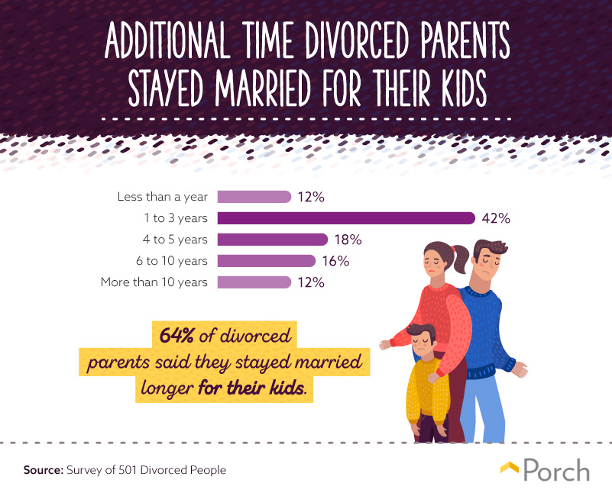 Sixty-four percent of divorced parents said they stayed married longer because of their children. A majority of these parents (42 percent) said they remained married an extra one to three years. On the other hand, only twelve percent of divorced parents said they stayed together for more than a decade because of their children.
Couples may convince themselves that they are staying together for the sake of their children, but according to most credible sources including the American Psychological Association, children can develop more problems when their parents remain in conflicted marriages instead of filing for divorce.
Generally, it is better for children to have two happy parents, even if those parents are co-parents who live separately and are divorced.
Would you change anything?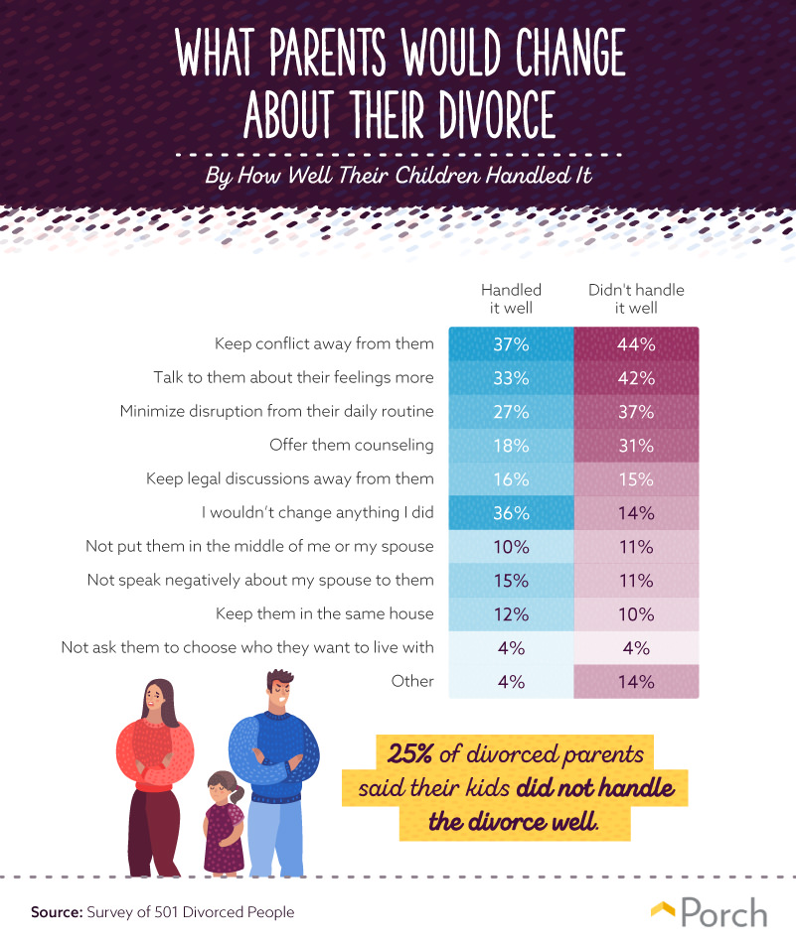 This survey found that a majority of parents (75 percent) reported that their children handled the divorce reasonably well. So well that 37% of those parents said that they believed they did a great job keeping problems or conflicts away from their kids. Also, 33% mentioned that they spoke with their children about their feelings about the changes happening in their family relevant to the divorce.
On the other hand, 25% of parents said their children didn't handle the divorce well, and about 44% of these parents said that they could've done a better job at keeping the conflict of the divorce away from their kids.
The American Academy of Child and Adolescent Psychiatry says that it is easy for a child to be confused or take the blame unless his or her parents explain what the current situation is. Parents should be straightforward and honest with their children, however, each child's age must be considered along with their capacity for understanding. Adding a psychologist to the process is advised, as mental health care professionals are skilled at helping children and adults navigate emotional situations, including parenting an anxious child through divorce.
According to this survey, 36% of parents who believe that they handled their divorce well said that they wouldn't change anything about how they dealt with the breakup, compared to the 14% of parents who wished they had done things differently.
The big decision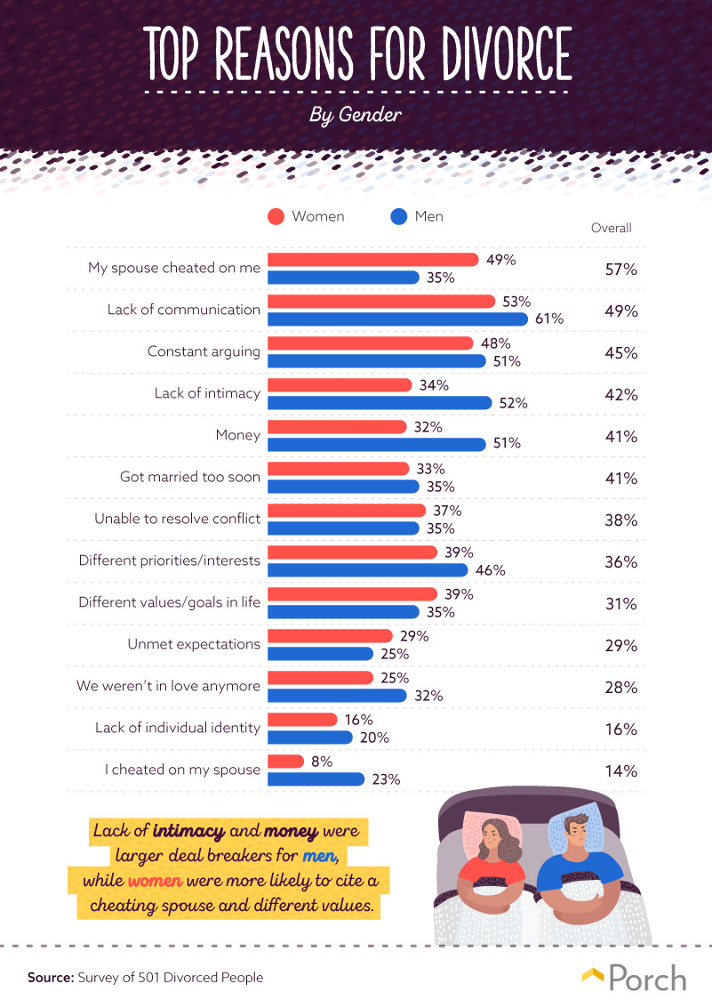 It takes a lot of courage to admit that you want to leave a marriage. In this survey, we can see that a lack of communication scored the highest percentage of why people divorce, with 61%t of men and 53% of women saying a breakdown in communication was the main reason of their split. Constant disagreements and infidelity were the other two top reasons. Money problems and a lack of intimacy were more significant problems to men compared to women, who considered adultery and having different values as more substantial issues and reasons to file for divorce.
Also, more men (23%) admitted that their divorce ended because they cheated on their spouse, compared to the 8% of women who said this was the reason to file for divorce.
Pointing fingers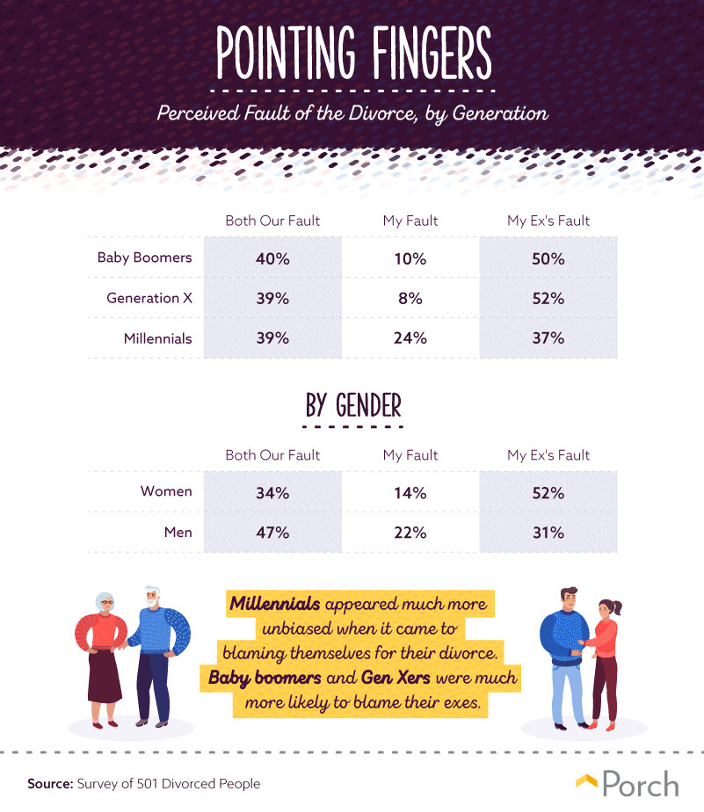 The concept of divorce has changed over time. For example, this survey divided different generations, and according to its respondents, Baby Boomers and Gen Xers were more likely to blame their ex-partner for the divorce. On the other hand, Millennials appeared much more impartial when it came to taking the blame for their breakup.
A study made by the World Economic Forum found that Millennials have less than a 50% chance of divorce. Mainly because Millennials are waiting longer to marry compared to other generations who married younger. Cohabiting before marriage has also likely caused fewer divorces. Gender wise, men were more likely to share the blame, whereas women were more likely to blame their partner for the split up.
Building your life again
Getting back on your feet can be difficult after a divorce, but ending your marriage isn't a sign of failure; it's a sign that you are human. Try to focus on the positive. You made a choice that was best for you, your partner, your children, and everyone else around you.
About the Author
Arturo Peredo is a writer and media specialist on behalf of Porch.com.