Your marriage is ending, and you're worried about the cost. The national average is about $15,000, but the range is huge. Uncontested divorce forms can be as low as $50, but a bitter court battle can cost tens or even hundreds of thousands of dollars. Let's break it down, so you'll know what to expect before you file.
What determines individual costs of divorce?
The cost of living where you reside is the first significant factor to consider when you're trying to figure out what you can expect to pay. Not only do things like your attorney's hourly rate correspond to the local cost of living; even basic court filing fees tend to differ from city to city.
There isn't much you can do about where you live (the law of each state dictates who they consider a resident eligible for a dissolution of marriage in that state. You can visit your local court's website for more information). Luckily, you have a lot more control over other aspects of your divorce process. First of all, you and your spouse can select which model of divorce is right for you. The basic options are truly DIY divorce (where you fill out the divorce papers yourselves), aided DIY divorce with It's Over Easy, mediation, collaborative divorce, and the litigation model (in which you each hire an attorney to duke it out on your behalf, although hopefully you will be able to come up with a settlement yourselves eventually, rather than leaving it up to the court).
Finally, there are other special circumstances which might impact how much you pay. For instance, did your marriage include domestic violence (or any other form of legal fault you'll need to prove)? Do you need a forensic accountant to figure out what kind of money you and your spouse actually have? Perhaps you need to list your house for sale in order to split your assets. Even the simple addition of a child custody arrangement, whether or not it's particularly contentious, can lead to an increase in costs.
What are the filing fees in your state?
Filing fees are generally required by every court in the nation. The cost of filing fees in your jurisdiction represents the true bare minimum you will need to spend in order to end your marriage. Depending on which state you live in, you will owe somewhere between $50 and $450. You can find a complete list of the fees for all U.S. states and territories here. However, we encourage you to take a preliminary look at the website for your local court anyway. You'll at the very least find more information about the law, but some state courts offer more extensive free legal resources.
What can you expect to pay for each model of the divorce process?
Now that you and your spouse are filing for divorce, choosing a model of divorce is the next major decision you'll need to make. At this point, you might want to do your own research, or you may even decide to pay for a couple of hours with a divorce attorney in order to get some legal advice specific to your case. In the meantime, let's get familiar with your basic options and the range of their associated costs.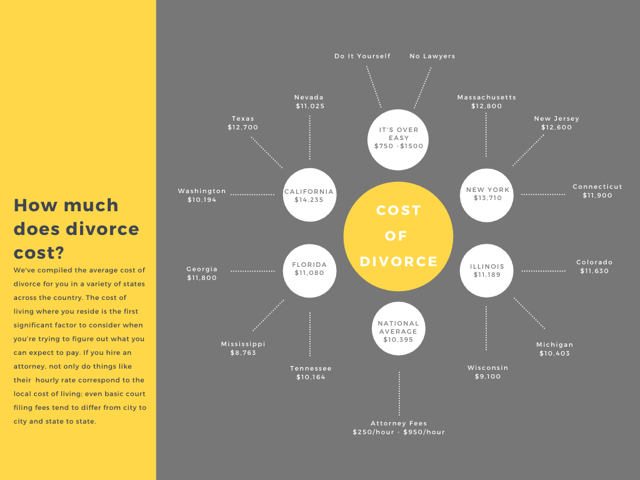 First of all, if you are in the market for an uncontested divorce (meaning you and your spouse agree on how you want your property and/or child custody divided) you can pay only your state's filing fees and fill out the forms yourself. This might be a good option for you if you and your spouse have had a short-term marriage (with little or no marital property to distribute) and one or both of you is comfortable with basic math and legal language. We really stress that last detail. While saving money can be very appealing, this is a stressful time, and you might not want to find yourself personally at the mercy of the clerk's office. Forms get kicked for all kinds of reasons, from mathematical errors to misspellings. Don't rush off to the nearest divorce lawyer yet, though, because there is another low-cost option for your uncontested divorce.
If you and your spouse are in basic agreement but would rather leave the forms up to experts in the law, then It's Over Easy might be the best option for you. Our pricing starts from as low as $9 per month (depending on the requirements of your local court). Best of all, you'll know exactly what your legal fees will amount to from the very beginning, which is more than you can say for even the above option of doing your own paperwork -- if the clerk kicks your forms, you could end up paying the fees twice. It's Over Easy, however, guarantees that your forms go through and will never charge additional fees for corrections.
The next level up in expense is mediation. Mediators are usually either mental health professionals or attorneys, and they will typically charge their usual hourly rates for their services. If your mediator is a mental health professional, this will usually run you between $100 and $250 per hour. If your mediator is an attorney, you can expect their hourly fees to fall between $250 and $950. Once again, the local cost of living is highly determinative of what you can expect to pay within these ranges. How many hours of mediation you and your spouse will need depends on how contentious your divorce is. When all is said and done, you will likely owe fees somewhere between $1500 and $10,000.
Your next option is collaborative divorce. Collaborative divorce is similar to mediation in that you and your spouse will be making your decisions in a room together in real time with professional help. However, in collaborative divorce that help will be coming from more than one professional. First of all, you and your spouse will each hire an attorney, and you will each be responsible for your own attorney fees. You will also usually have two divorce coaches, who are typically licensed mental health professionals. Beyond that, you might have other professionals like accountants, child specialists, or real estate agents in the room to help you sort out how you will be dividing everything, including custody and parenting time. Collaborative divorce typically costs somewhere between $25,000 and $50,000 which may or may not cost less than if you and your spouse were to each simply hire an attorney to strike up a deal, whether or not your case makes it to court. You can expect to spend a lot less time negotiating, but you'll be paying several more professionals for every hour of negotiation. Collaborative divorce will, however, leave your (reconfigured) family in a much better emotional state than litigation, which is especially important if you have kids.
Your last option is probably what you think of when you think of divorce (thanks to movies like Kramer vs. Kramer and Marriage Story). In this model, every issue is contentious, you and your spouse each have your own attorney, and the sky's the limit with regard to your legal fees. It isn't always this scary, but divorce attorney fees can get pretty high. In reality attorneys' fees will usually be somewhere between $250 and $950 per hour, depending on where you live and how complex your case is, with the initial retainer fee falling anywhere between $2500 and $25,000.
What are some miscellaneous expenses?
Sometimes your particular circumstances might tip the scales toward an increase in overall expenses. First of all, if you think you and/or your spouse may not have a completely accurate picture of your financial situation, you might need a forensic accountant. They usually charge somewhere between $300 and $500 per hour. Sometimes they might uncover a breach of fiduciary duty, which is lawyer-speak for bad action like when one spouse attempts to hide assets from the other. An incident like this or a history of domestic violence makes your case more complicated and may lead to an increase in attorneys' fees. Depending on where you live, either one of these might also lead to the innocent party being entitled to a greater proportion of your shared assets. Divorcing couples with children can also expect to pay more for their divorces if they opt for mediation, collaborative divorce, or individual representation. Put simply, kids invite a lot more negotiation at the best of times and all-out battles at the worst.
Final Thoughts
In a perfect world, all divorces would be easy, peaceful, and uncontested. That doesn't mean we would want everyone stuck filling out their own forms, though! If you and your spouse want to avoid a bitter fight and get through this difficult time with the least stress possible, get divorced with It's Over Easy. The breakdown of a marriage is always tough, but it doesn't have to be as scary as the movies make it out to be.
Go to this page about online divorce to learn more.