In this inaugural episode of All's Fair with Laura Wasser, Laura and Johnnie travel to the Calabasas condo of lawyer-in-training Kim Kardashian West for an exclusive interview. The star of Keeping Up With The Kardashians, creator of SKIMS shape enhancing undergarments, and KKW Beauty speaks frankly about surrogacy and shares never-before-revealed details about her experience with her second surrogate, and the birth of her fourth child Psalm with husband Kanye West. Kim also outlines the arduous path she is determined to follow to become an attorney, revealing that what ultimately fuels her passion for the law and justice reform is her concern for her own children's futures. Kardashian West is candid about what she's been able to accomplish as an activist since her headline-making meeting with President Donald J. Trump, and the subsequent release of Alice Marie Johnson from federal prison. Oh, and SPOILER ALERT—Kim spills some #KUWTK behind-the-scenes-tea about the feud with Khloé, then she surprises everyone, especially Johnnie, with her future plans for her new body shaping undergarment brand. This is Kim Kardashian West as you've never heard her.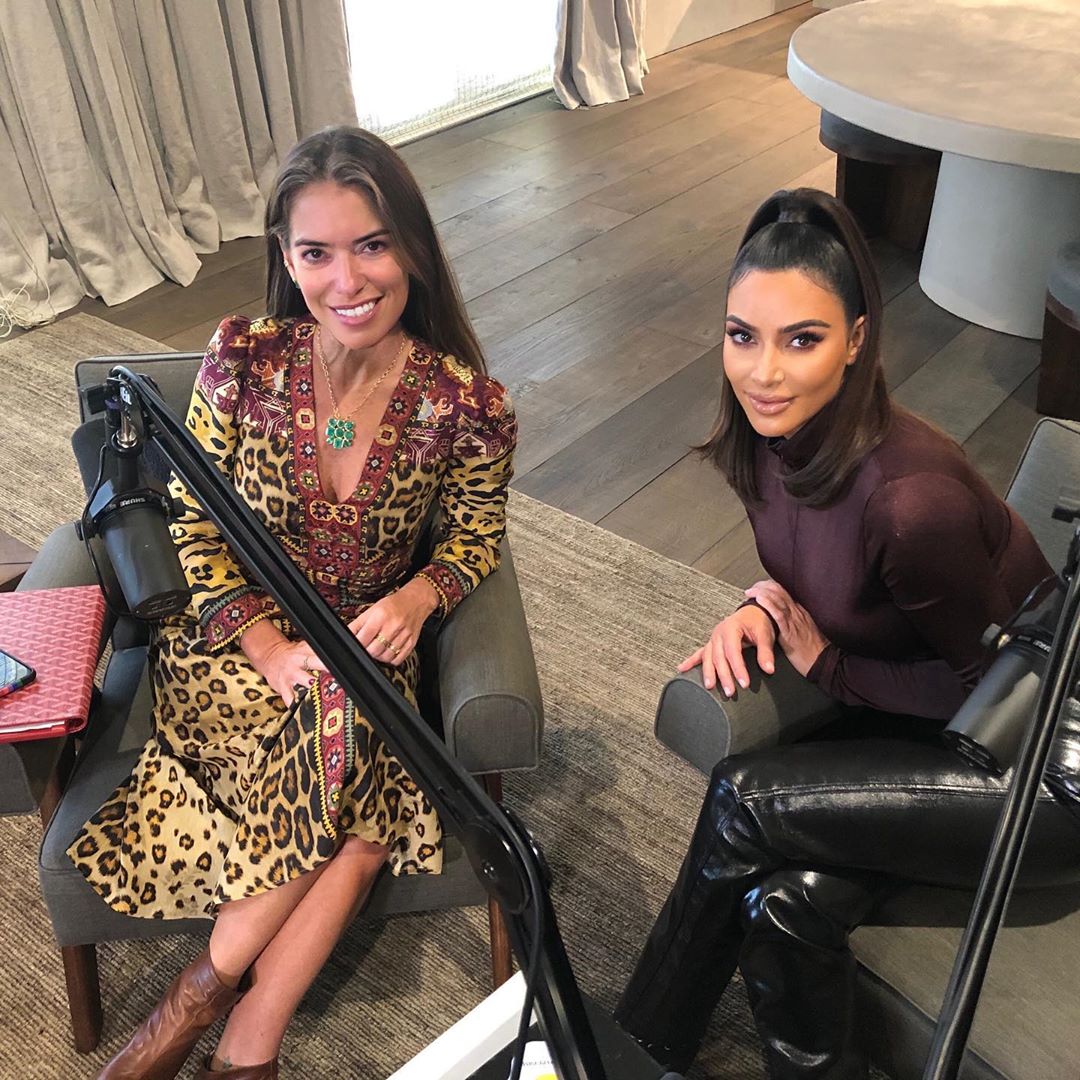 Episode Transcript
Laura Wasser: Hi there, it's me, Laura Wasser, the divorce attorney and the founder of It's Over Easy, the online divorce service. I've been practicing family law for over 20 years and I've worked on thousands of divorces, shepherding people through what may be one of the most terrifying times in their lives. Along the way, I often have to remind people to lower their expectations when dealing with matters of the heart. Rules simply don't apply because all's fair in love and war.
Johnnie Raines: I'm Johnnie Raines. And welcome to our brand new podcast. All's Fair.
Laura Wasser: So for as long as I can remember, I have been totally fascinated by human relationships, human nature, interpersonal relationships, love, loss, passion, conflict, forgiveness. And so it's really good that I'm a divorce lawyer, but also having the kind of conversations about these relationships. I'm really into it. That's something that obviously other people are interested in, too. So we created this All's Fair podcast to talk about those kind of relationships.
Johnnie Raines: I can relate well – not to the practicing law part – but in my former life casting reality TV shows like The Bachelor and SuperNanny, what I found most rewarding was having a front row seat to watch the way real people create relationships and deal with their kids.
Laura Wasser: So those of you who know me know that my approach to family is a little different than most people's. I have two boys from two different dads. We all spend Thanksgiving together. My philosophy is kind of the more people in your tribe that can support you and love your kids, the better it is. And it doesn't have to be a traditional family. It can be whatever works for your family. It's 20/20 and we can safely say that we're living in a time where we define family however we like.
Johnnie Raines: So as we're talking about defining families, some people do it the old fashioned and somewhat boring way marrying, getting pregnant, having kids.
Laura Wasser: Some are more progressive.
Johnnie Raines: Speaking of which, Cameron Diaz just announced the birth of her daughter Raddix, for whom she calls a miracle. She and rocker Benji Madden just became parents to a little girl named Raddix by a surrogate.
Laura Wasser: So juxtapose the bliss of that moment with what happened over the summer in New York, where they voted to keep paid surrogacy punishable by a fine.
Johnnie Raines: How is that possible? In 2020 or 2019?
Laura Wasser: Amazing to me. But it was funny because I ran into our friend Kim Kardashian West at a holiday party this year, and I said, did you know that surrogacy is illegal in New York? And she said, Yeah. And I said, Would you come on the podcast and talk about that with us? Among other things. And she said, Yeah. So, Kim, welcome to the All's Fair podcast.
Kim Kardashian West: Thank you for having me. I feel like I am a surrogacy expert.
Laura Wasser: I love that. And I know you're an expert on a lot of things. But let's start with surrogacy. You've had two kids by two different surrogates, Chicago and Psalm.
Kim Kardashian West: Yes.
Laura Wasser: So do tell and I know you have two older kids that you carried naturally. Tell us your how, what, all happened, cause I think some people don't know.
Kim Kardashian West: Yes. So I got pregnant with my daughter North, and I was actually with Khloe to do all of this blood work and testing with a fertility doctor cause she wasn't getting pregnant. And I said, look, I'll go with you. It'll be so easy. I'll get my bloodwork. Well, I just love to learn about anything that I don't know about. So the doctor came back later and said, oh, Khloe, you're fine, you're great. But, Kim, we need to talk.
He said, your egg count is like nothing you know. So that kind of freaked me out for a little bit. And I said, okay, well, why don't I just get off the pill? I'm going to Miami to shoot Kourtney and Kim. The plan was to freeze my eggs because all the doctors said you should freeze your eggs. So I said I would do that. Let me go to Miami for two months, clean out my system, get off the pill, come back, freeze my eggs, go back to Miami, and get pregnant the next month.
Laura Wasser: And so that happens a lot, too.
Kim Kardashian West: It happens.
Laura Wasser: Okay, so now you're pregnant.
Kim Kardashian West: What I learned was when you're on the pill and you're going to check any of your egg count – big mistake. You just don't do that. The pill is supposed to suppress all of that. So you're not really supposed to do any of that until you're really off the pill. So.
Laura Wasser: And didn't this doctor kind of give you that tip or. No?
Kim Kardashian West: No.
Laura Wasser: Okay.
Kim Kardashian West: So I changed doctors.
Laura Wasser: Yes.
Kim Kardashian West: And got pregnant with North. The doctor pulled me aside because I was still legally married to somebody else. Oh, which, you know.
Laura Wasser: Yes.
Kim Kardashian West: Because Laura is my attorney for those of you that don't know. I was in a relationship for seven months with somebody that is my husband now. But at the time, I didn't know, where we were going to get married? Or where we were gonna have this baby? It was all new territory to me. And I was so scared and literally I thought I had a miscarriage because I was really heavily bleeding and in so much pain in Miami. I went into the hospital, because you have to do a D&C to clean out the miscarriage.
Laura Wasser: Right.
Kim Kardashian West: It was Thanksgiving morning and my doctor said come in the morning and we'll do it Thanksgiving night so that no one will see you. I was so worried people would, you know, find out because this was the first time I ever got pregnant. I was so nervous. So I went in and there was no heartbeat. The doctor said oh, you had a miscarriage, you know. And then I went in again on Thanksgiving morning and the doctor said, there's a heartbeat.
Johnnie Raines: Wow.
Kim Kardashian West: And so I was like, oh, my God, this is a sign. It's Thanksgiving morning. You know, so we ended up obviously having North. And I had a really bad pregnancy. I had Preeclampsia. I delivered six weeks early. She was 4 pounds. And I had something called Placenta Accreta, where the placenta grows inside your uterus.
Johnnie Raines: Sounds really painful.
Kim Kardashian West: So, yeah, it's honestly like what people die from in childbirth. So you have to get the placenta out within a certain amount of time or you can internally bleed. I mean, this is so graphic and gross, but he had to literally cut the placenta off with his hands - it's like fingernails inside of you.
Laura Wasser: Right.
Kim Kardashian West: And it left a hole in my uterus.
Laura Wasser: Right.
Kim Kardashian West: That muscle doesn't grow back. So I could not get pregnant with Saint after I had north. Luckily, I did go through the process of getting embryos and tried to get pregnant for about a year and a half.
Could not. And so they said I would probably not get pregnant. So I used one of the embryos and I was able to get pregnant with Saint. The same condition happened. It was a little worse the second time. My mom, I remember her being in the delivery room and just saying, like, I've seen it all, but I've never seen this. Like I've never experienced this. So they were about to do a hysterectomy, and we were able to get the placenta out just in time. And I ended up needing five surgeries in the next year and a half to internally fix the damage that was done, which was really crazy and really traumatic. And so I had two embryos left. It's really interesting, because when you get embryos, when you explain this to everyone, they don't know that when you get embryos, you can do further genetic testing - All the testing that you do in the belly.
Laura Wasser: So right.
Kim Kardashian West: Down syndrome testing, genetic testing. And in that process, you find out the sex of the baby. That was really hard for me to know. I had to, you know, decide which embryo to put in. Do you put in the boy or do you put in a girl? So I just put in the healthiest one first.
And that's just how I did it. And I kind of knew that having another kid was going to be maybe my last because they said you can really only go through it about two times before you need your uterus removed. So I got pregnant with Saint. I knew it was gonna be a boy and then I really wanted another baby girl.
Laura Wasser: So at this point after Saint do you and Kanye start having conversations like, I don't know that we're going to be able to have another child. I can't carry it. I don't know.
Kim Kardashian West: Well, I asked the doctor and he said it would be malpractice if I put an embryo inside of you, because having gone through these conditions twice, you're going to need your uterus removed. And it's just not fair to do this to your body. You can literally die in childbirth from this.
And in pregnancy, I mean, I had every issue, you know.
Laura Wasser: You had miserable pregnancies, two, both
Kim Kardashian West: I had to do aversion.
Laura Wasser: I did that -- and then they turned back.
Kim Kardashian West: Mine didn't, thank god.
Johnnie Raines: What's aversion?
Laura Wasser: They have to turn the baby around. First, we tried the mug wart next to the toe.
Kim Kardashian West: I did that. Also acupuncture.
Laura Wasser: They turned the whole baby around -- and we're not big!
Kim Kardashian West: I got a bed that you can flip upside down and so I'd have to lay there upside down. So basically to do aversion, it's like very timed out to where you have to do it like three weeks before delivery because you need enough fluid around the baby to be able to move the baby.
But you go into the hospital, you check in because if the heart rate of the baby goes up you immediately go into delivery. So you go in, and I mean, this is like so gross to say
Laura Wasser: That's OK.
Kim Kardashian West: But I think a doctor has to like put his fist up you to turn the baby around.
Laura Wasser: Yes! Now, the thing is just to be clear, because, Johnnie, he's never given birth.
Johnnie Raines: And I never will.
Laura Wasser: They really don't want you to deliver a baby that's feet first - that's really dangerous. So you need the baby's head facing downward in the birth canal. And the way I always grew my babies, both boys was their head was right here (points to upper chest)
Kim Kardashian West: Yeah.
Laura Wasser: And their little butts are right here (points to stomach). And they were just sitting there waiting to come out.
Kim Kardashian West: Yeah.
Laura Wasser: So you have to turn them, ok. And by the way - it hurts!
Kim Kardashian West: It hurts worse than delivery.
Johnnie Raines: It sounds horrible.
Laura Wasser: I never delivered, they just cut me open after that.
Johnnie Raines: And you're doing this after being in this aversion bed that you were talking about?
Kim Kardashian West: For weeks and weeks you're trying to go to a chiropractor and turn the baby and use this like sage burning incense on your toes. Like they say, all this stuff will help turn the baby.
Laura Wasser: None of that works. You need a fist up your vagina.
Kim Kardashian West: Basically. So there's a fist, you know, a doctor's fist up you. And then there's like two other doctors, like lubing up your belly and manually finding the butt and finding the head and turning the baby in the most painful way. But there's no pain medicine that you could possibly have. So you're like sitting in the hospital bed just like screaming while they're turning the baby. Once they get it to turn, they put this belt on you and have you lay there in a certain position for about an hour. And then you can go home and pray that it worked.
Johnnie Raines: Wow.
Laura Wasser: I didn't even try with Zach. I mean, I had both by C-sections. My doctor was like, please, let's not do this. He's turned. We can't turn him back. Let's just do the C-section. And at that point, I was like, so tired and exhausted, I was like, fine.
Kim Kardashian West: My doctor was Paul Crane, who delivered me, he was my mom's gynecologist. He's super old school and was like, we can deliver breach. Like, I got this. Like, I know how to do it. We can do it. And I just was too scared, nervous about it. But so after that, awful pregnancies, awful deliveries, everything that could frustrate me just did. And could medically go wrong, did. So, I knew I wanted to expand my family and I wanted to have a baby girl.
So. I knew nobody that had had a surrogate before. No one could really give you information. And I mean, I wanted to know so much. Like, I understand if you have like two girls and you can't do it, then you have a boy with a surrogate, you're going to feel so much love for that boy because you've never had a boy before. Like, how is it going to feel if you've had a boy and a girl and then you bring in a new sibling that you didn't carry? Like, am I gonna feel the same, are they going to look like me? Even though, you know, every ounce of DNA is yours. I think sometimes you really have to explain that to people. People will say, oh, the baby looks like the surrogate. Like, I'll see the most ignorant comments. That's impossible. Like, it's actually impossible. They share all the same DNA - It is Kayne's sperm, my egg and it is our child, 1 billion percent. So sometimes you really do have to spell that out for people.
Laura Wasser: And even being open to, I wouldn't call it ridicule, but just that kind of ignorance. I know you also have spoken about the idea of giving up the control, which, by the way, as a person who is carried to term, you know, you give up control anyway. But now that you're not even carrying the baby, it's in somebody else's body. There's a huge – I know you and I are similar in this way – control issue. What is she eating? How much is she sleeping? Is she stressing? How is her health? Will she be honest with us about it? All of those things going on. You're not there. You can't control it. And I have to imagine that there's still some kind of pre-birth hormones happening, even though the baby's not in your body because, you know, it's coming.
Kim Kardashian West: You know what I have to say to spell it out for people? You get an attorney that is just a surrogate attorney. They know all family law. They know every state law. They know California is, I think, one of the only states where the baby legally becomes yours in the third trimester. Where in other states I believe you have to go through legal paperwork after the fact. Like an adoption, almost.
Even though it's legally your child.
Laura Wasser: OK.
Kim Kardashian West: So California has amazing laws that it is automatically our child in the third trimester. So once we got a surrogate attorney, then I got a surrogate broker that would go to different agencies. You can easily call one agency and, you know, see who they have. But I had someone go to multiple agencies in California. It was important to me to find someone local so I can attend appointments. They gave me a pack of people. I went through and there's photos and family photos [of surrogates]. For me and my situation, what was important to me is to find someone that was in a relationship or had a supportive partner.
Laura Wasser: Right.
Kim Kardashian West: Had children of their own and didn't want other children and also had been a surrogate before. So they knew the feeling of giving up a child – that was important to me.
I found a really amazing candidate. Race didn't matter to me. Nothing. And that seemed to be a topic that people would ask me all the time. Like, for me, it doesn't matter. One of my surrogates was black. One of my surrogates was white. One of my surrogates carried a Chinese baby before black baby before a white baby, and I think an Indian baby before. It was really interesting that there is absolutely no DNA transferred.
So it's really funny to me when someone would say a comment like, oh, your child looks just like your surrogate. And ... my surrogate is a totally different ethnicity. Like it made no sense. So after I found a perfect match for our family, I did have a conversation with her. So, you can go completely private.
Laura Wasser: And not ever even speak to her?
Kim Kardashian West: You can maybe set up an e-mail address in a different name and communicate that way or speak.
It was important to me, though, her to know her, to have her know who she was doing this for as well, because I would never want someone that maybe wasn't a big fan.
Laura Wasser: Right.
Kim Kardashian West: Of me or my family. And they're watching the show and my baby's inside of them and they're, you know, talking shit.
Laura Wasser: Right.
Kim Kardashian West: And, you know, like I just wouldn't ever I would want that person to make that choice as well.
Laura Wasser: Right.
Kim Kardashian West: So we did have a conversation. With both surrogates, we both had great feelings for each other. And both experiences were really different, but really amazing.
Laura Wasser: Now tell our audience why it is that you use two different women.
Kim Kardashian West: I use two different women because I actually planned on doing it with my first surrogate again. But she got pregnant on her own and knew right after. And she wasn't planning on that. But I'm so happy for her. And she was so happy but so nervous to tell me, because we had planned on doing it again. And so I thought, you know what? I'll try it again. And it was just as easy to find a surrogate.
A lot of people, I think, are fearful that, what if this woman runs off with your child? And every agent that I speak to says absolutely that has never happened. These women love helping families. They say the one issue that they run into is the couple breaks up and then they have custody issues or both of them say like, well, it's not my child.
Johnnie Raines: Wow.
Laura Wasser: Right.
Kim Kardashian West: And that becomes the biggest problem that surrogate lawyers and brokers run into. But never a case where someone tries to run off with your child.
Laura Wasser: So, OK - did you attend OBGYN appointments with the surrogates? Like you saw them, you met them?
Kim Kardashian West: I did.
Laura Wasser: How close did you get? And is this anybody that you still keep in touch with her when it's done?
Kim Kardashian West: I went to both transfers when the baby was transferred. I still stay in communication with both of my surrogates. Maybe not on a daily basis or anything like that. I think everyone respects each other's privacy and space. You kind of plan that out ahead of time.
Laura Wasser: Right. I think that would be an important thing. And again, it's different. My other fascination is like egg donors and IVF. I mean, that kind of stuff, because that is different in terms of genetics and biology and all that. This seems a little more cut and dry, but I'd really want to know in advance what the rules are. Is that fair?
Kim Kardashian West: I didn't need it for my second one because I kind of knew the drill. So you get your surrogate attorney, then you get your surrogate broker. And then the broker recommended that we use a therapist that would communicate with me first and then communicate with her and kind of be our liaison.
Laura Wasser:Okay.
Kim Kardashian West: Towards the end, we got close enough to where we could communicate really without that. But the therapist would suggest, hey, I think you guys should communicate once a week through text, maybe on Mother's Day. She's a mother as well. Maybe get her a massage or something that's appropriate for her, to pamper her. Things like going through the birthing plan so that if anything was uncomfortable, that the therapists would be that buffer to say, like, this is who I want in the room.
Laura Wasser: Right. Were you in the room?
Kim Kardashian West: I was in the room both times.
Laura Wasser: What about Kanye? How involved is he in this? I mean, this is kind of a chick thing, but it's his kid. So, yeah, he's busy. I know. But did he meet her? Did he go to a doctor's appointment?
Kim Kardashian West: Both surrogates, you know, were very comfortable with Kanye being involved. Anyway he wanted to be. For the first surrogate we both met her and then met her husband and their kids came over to our house. She had, you know, two younger kids. So we felt a really good vibe from the start. I felt like the second time I felt like, oh, I got this. So Kanye came to some at the beginning. And then, you know, with the second one, I don't think he really was involved really more until the end.
But yeah, it's totally I think, from my experience, especially because he was more involved when I was actually pregnant, it was whatever I needed him to be involved with. But he was there for both deliveries. And so for the first one, he was not in the room. We had a connecting room. So him and Kourtney were in the connecting room because I really feel like, you know, Kourtney's done this before. I really needed a girl support system.
So with the surrogate, as soon as the baby's born – this is also what's interesting – I chose to stand behind her shoulders and be behind her. I didn't need to see the full frontal, but both surrogates were very comfortable, and were like, it's your child. You can stand wherever you want to stand. I can be in the room.
Johnnie Raines: I would've also chosen behind. You made the right choice.
Laura Wasser: He's a little squeamish.
Kim Kardashian West: So I stood behind. I saw the baby come out. And once the baby came out, we had a connecting room and there was a hospital bed and I was in a gown, like a hospital gown. The baby comes out, then the biblical cord is cut right away and the baby is placed on my chest. So skin to skin right from the beginning, as if I birthed her.
Laura Wasser: Right.
Kim Kardashian West: And so then both times I, you know, especially with Chicago, she came out and she was like my twin. So it's like, okay, God really did this to show me that, like, I'm connected, because I was so worried at first.
And, then I asked her, do you want to hold the baby? She was like, no, you know, I'll call you before we check out tomorrow. I would love to hold her then.
Laura Wasser: Right. So professional, so great.
Kim Kardashian West: And of course, before she left, I let her hold the baby. But she had said that her previous family didn't even want that. And she's comfortable with that as well. With the second surrogate, we also had the connecting room. But there was a curtain and Kourtney and Kanye were in the room – but behind the curtain. So they were a little bit closer the second time. And I did the same thing behind, you know, her shoulders.
I was so surprised that both of my surrogates had the easiest deliveries.
Laura Wasser: That's great.
Kim Kardashian West: Like so easy. One or two pushes with my son Sam, literally. The doctor didn't even get his gloves on. He just came out and it was so easy.
Laura Wasser: And that's why they're surrogates. Yeah. So after hearing all of that, what astounds me is that there are still intelligent people that are so anti-surrogacy. And again, what we saw summer 2019 in New York was a lot of really progressive thinking feminists saying this is not OK. A big thing that I've been reading is the reasoning that has to do with it – that it really only benefits the wealthy and that it also puts the wealthy at an advantage over the less wealthy because obviously there's money changing hands.
After having done this a couple times and spoken about it, what's the range on how much something like this costs? How much of that goes to the surrogate versus the lawyer, the broker, the therapist, all the other people and the hospital? You cover all the medical expenses, obviously.
Kim Kardashian West: Yes, you cover all the medical.
Laura Wasser: How much does one get for being a surrogate? And again, give me a range, not what you guys paid. Just from what you know.
Kim Kardashian West: Yeah, I would say the cost to the surrogate would be anywhere between $50,000 and $80,000.
I would say it costs about $100,000 to retrieve your eggs and to get the embryos. It costs about $3,000 to do the extra genetic testing. Anybody that's having IVF is also doing this. And if they're having the baby.
Laura Wasser: Yeah.
Kim Kardashian West: I would also say it cost $120,000 – $80,000 if you maybe use a broker. So it is definitely a large expense. I do think that. I do know that both of my surrogates were extremely grateful for the opportunity, and what I also thought was really interesting was when I was looking through the packet of women that were chosen for us, I would say more than half of them had Navy or military husbands. Their husbands are in service.
Laura Wasser: Right.
Kim Kardashian West: And they're gone maybe eight to 10 months a year. And so sometimes a whole pregnancy can happen while they're away in service.
Laura Wasser: Right.
Kim Kardashian West: And that is something that really comforts them. It provides a financial gain to their family. I know that I've spoken to a few surrogates now where their husbands have been in the military and they are so grateful and they love it.
Laura Wasser: Yeah.
Kim Kardashian West: I'm always against the idea that a woman can't choose what she wants to do with her body. So for people that have been such large proponents of choice now to be able say, you know, you can have an abortion, but we're not going to let you choose whether or not you want to carry a child for somebody, we're gonna find you.
Laura Wasser: Yes. That's what happens in New York.
Kim Kardashian West: The fact that it is illegal in New York is so just wrong to me. That my friends that live in New York and would want that as an option and can't.
Laura Wasser: Right. Most of the states, you know, in the U.S. either have no law on this and so there is nothing to be found. So there's nothing that prohibits it or allows it. It's Arizona, Indiana, Michigan, Nebraska, New Jersey, New Mexico and New York that have laws prohibiting it. The aforementioned ones, everybody but New York just finds the contracts to be void and unenforceable. But New York actually prohibits them. So they are the most conservative in in this respect. And again, it is interesting. It's New York State.
Kim Kardashian West: Yeah.
Laura Wasser: We'll have a link to that on our Web site. So let's move on for a second. Since we started talking about law a little bit. I know how interested you are in law. And have you thought about any laws on this or you really still pursuing stuff that has to do with criminal justice?
Kim Kardashian West: I'm really focusing on criminal justice. I mean, right now I'm focused and have to take, they call it the "baby bar". So I'm kind of in mode for that, which is like, I think heavily torts contracts and criminal law. It's interesting because now that I'm studying it and having lots of conversations with my surrogacy attorney, who's a good friend of mine now, and just hearing about all the contracts and even reading over the little provisions in my contract, like, I understand it's so much better.
Laura Wasser: Right.
Kim Kardashian West: So I can be more a part of the conversation.
Laura Wasser: Yes.
Kim Kardashian West: Which is really interesting. But half of my apprenticeship is a lot about working on what's current. And that's, you know, policy and individual cases. So all of that's criminal law.
Laura Wasser: Got it. So I read an Instagram – because I follow you – post the other day where you posted the plaque that Kanye got you. It said, "This is your life. Married with four kids. Get people out of jail. Cover of Vogue. Go to church every week with your family. Dreams come true."
Kim Kardashian West: Yes, that sums it up pretty well. It does. It really does. He sent me that text message when my solo Vogue camera came out last year.
Laura Wasser: May?
Kim Kardashian West: Yeah, in May. And I think that it was the one year anniversary of Alice Johnson.
Laura Wasser: It was. And now tell our listeners a little bit about Alice Johnson. Because this really is I think, this is a side of you that people don't really understand what you did there.
Kim Kardashian West: Yeah. So basically, I saw online, on Twitter, a case that I thought just really wasn't fair. A woman who, just to put it in perspective, had lost her, I think 15 year job at FedEx and had five kids. One of them died. Her 8 year old died in a motorcycle accident. She just got a divorce. The husband left her to take care of the whole family. And someone at her old job said, if you answer the phone and you say this sentence, you'll get a thousand dollars.
And she was like, OK. Some jumbled sentence that was some, you know, code word for, You know, she was like a phone mule. And then she kept getting called back to do it. And it was a big sting operation. And she was just trying to put food on the table. And she has a huge family, lots of sisters, big, you know, family. And so when everyone one got arrested and she didn't know who didn't know quantity, didn't know what, she knew it was shady, but didn't know exactly the specifics of it.
So many people did these plea deals and her attorney advised her not to do a plea deal. And I think it was like two to five years or something.
She turned it down because she had kids and she couldn't be away from her kids, even just for a few years, and ends up getting life.
And so when I saw someone with a first time offense, someone with a nonviolent offense, get the same sentence as Charles Manson, that just didn't compute to me. I couldn't understand it. So I sent a text message with a little clip of her story to Shawn Holley, who's a criminal attorney that worked with my dad on the O.J. case.
And I just said, this doesn't make sense. I don't understand. Is it that she doesn't have good enough attorneys? Can I pay for attorneys for her? Like I was really naive to how the system works and what was the deal. How could this happen?
And so we connected with her attorneys and worked on it.
And I found out that the only way to make, you know, something happen for her wants to call the White House.
And so I absolutely did. I called Ivanka and I felt like as a woman, she understood me and heard me and said I should speak to her husband, who was heavily involved in that.
And we were able to go to the White House and we had a meeting and it was canceled. And I was so upset. And then we had another meeting. And it was on Alex's birthday in May. And so I was like, okay, it's a sign. It's meant to be it's on her birthday. I'm gonna go in and we are gonna sell this and we are gonna we have to get this done for her. And so we did.
And the president was really open and compassionate about Alice. And I'm so grateful. And so is she. And we made it happen.
Laura Wasser: So is this a one off or is this something that could really happen? Like I think I've heard you looked into other cases, you're looking into things. This obviously happens more than we would like. No system is perfect. Yeah, there's thousands of Alices.
Kim Kardashian West: So after that happened, I got contacted by Van Jones.
Laura Wasser: Yeah.
Kim Kardashian West: To do an interview. And then Van and I just started talking a little bit and he was like, you really have a knack for this law thing. And I was like, well, I'm obsessed. Like it's you know, when I was a kid, I would look through all my dad's O.J. filings and I mean, crime scene photos, like stuff I should not have been looking at right.
And on the weekends and Kourtney used to be like, get out of his office, like, what are you doing? And I just always was really into it.
So Van connected me with his law firm, Cut 50.
Laura Wasser: Mm hmm.
Kim Kardashian West: And a girl named Jessica Jackson and Aaron Hainey and was like, we can do this. We can figure out how to go through law school in California. You could read the law and you have to commit, you know, 18 hours a week. It's like no joke. It's law school and we stay committed to doing that.
And so through that. I have to work on policy with them and we got the First Step Act passed, which I think has let out over twenty five thousand people now, which I believe totally happened because of Alice Johnson. And because she got out and put a face on justice reform. And instead of reading about cases and hearing about these stories, people saw her. They saw her run out to her family and heard her story and understood that this great grandmother could not be a threat to society anymore.
I felt this compassion really happen. I've worked with a bunch of attorneys, Brittney Barnett, that was Alice's attorney that I partnered with. And I mean, we've gotten, you know, 25 something people out just from all of her hard work with her partner. And it's been amazing. Like, it's literally what I do all day long. People are sending me cases. And if I feel like I can help, right, I can.
And we shot a documentary on Oxygen called the Justice Project.
And it features a handful of really sad, heartbreaking stories that my goal is to, like, put a face with each problem that we have so people can understand what you read on paper isn't necessarily. Fair. And like the circumstances behind someone's story, you just really have no idea what someone's life has been like and what drove them to do what they did. And it's not necessarily their fault. And if it is, people can be rehabilitated and entered back into society.
I said I would never work with people that violence is involved. I had this, like, wall up and then I went to go visit prisons and I started to talk to people and hear their stories. And my heart totally opened up. And I hope that this documentary opens up hearts for people just like mine was, because the circumstances are always so different.
Laura Wasser: And we probably can't even imagine what some of these folks have been through before their incarceration, especially if in trial their circumstances aren't even allowed to be presented because they have a bad attorney.
Kim Kardashian West: They're just getting the wrong guidance or they're taking plea bargains that maybe they wouldn't otherwise be taking, but they feel like they've been given no choice or people are forced to take plea bargains because they know they have no shot.
Like if you told Alice, should you take a plea bargain, you'll get two years over life, and she spent 23 years and you absolutely would take that plea bargain.
Johnnie Raines: It reminds me a lot of what you say about the family law courts. I mean, you both know the law better than I do. But what Kim is saying is so similar to what you often say about, you know, the way that the courts work. And I know in the criminal justice system, they're overloaded. And that's one of the reasons why so many black and brown people end up in jail, because it's just like this sort of streamlined process.
Laura Wasser: Absolutely.
Kim Kardashian West: It's insane. And just to think that, you know, I'm raising four black kids and two sons. And if, you know, I want to see a different system from my kids and their friends and their kids. And it's really insane.
Laura Wasser: Now it really is. And I think, look, we have a system of law, whether it's family law, which is not nearly as serious in most instances, or criminal law, and you apply those laws to the facts and generally it works.
But in a lot of instances, it's the detail. It's the things that people don't always think about. And because our system is so crowded in both of those fields, there's not time. So people need to re-examine it. People need to get back in there. People need to help. I think what you're doing is amazing. So important. I also think it is a great example that you're setting for your kids because they see so much of the good that you're able to do.